It is with great sadness we share that Leila, founder and artist of Hoxa Tapestry Gallery, passed away on 08/08/22.
Although not completely unexpected as she had been battling terminal cancer for the last 3 years, as a family we are all understandably devastated.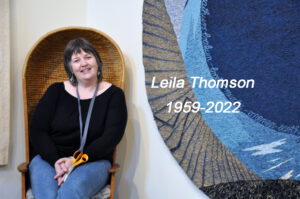 As a family we have set up a Macmillan Tribute Fund in honour of Leila to help Macmillan continue their incredible work supporting cancer patients. To donate to the fund please follow this link: https://tributefunds.macmillan.org.uk/In-Memory/Leila-Thomson
Thank you
The Hoxa Tapestry Gallery is a family business run by local artist Jo Thomson, her brother Andrew and father Benny.
The Gallery was built in 1996 by Leila Thomson (Jo's mum) and Benny to exhibit Leila's large, unique, handwoven tapestries. Leila graduated in Tapestry from Edinburgh College of Art in 1980 and returned home to Orkney to live, work and bring up her family.
Jo Thomson (Leila's daughter) graduated in Painting from Edinburgh College of Art in 2010 but tapestry is second nature to her as she grew up weaving alongside her mother. Jo's artwork as a result is an exciting combination of handwoven tapestry and painting. Both mother and daughters' artwork is inspired by the rhythm of life and landscape of Orkney, where they were born and brought up.
Jo joined the family business after graduating alongside her brother Andrew, who makes the gallery's picture framing and also handcrafted rugs from Leila and Jo's drawings. In August 2022 Leila sadly passed away, three years after being diagnosed with terminal cancer. Leila left behind an incredible legacy and her artwork remains on show at the gallery.
Since opening to the public in June 1996 the gallery has received visitors from all over the world each year. Both Leila and Jo have artwork in private collections worldwide.
***OPENING HOURS 2023 ***
April – September
Monday – Friday 10am – 5.30pm
Sunday 2pm -5pm
(SATURDAY – CLOSED)
Out with these times by appointment.
Although we are usually here working throughout the winter season we cannot guarantee to always be at the gallery, so it's best to e-mail ahead if you'd like to visit.
e-mail: enquiries@hoxatapestrygallery.co.uk
tel: 01856 831395
Opening times last reviewed and updated on 05/04/23
Update 17/04/23
Due to substantial increases in materials costs and overheads we have had to increase prices on many of our products.
***Last postage date for 2023 Christmas orders is Monday 18th December***
*** UPDATE REGARDING E.U. ORDERS***
Due to new E.U. Tax laws and regulations regarding exporting to the E.U. post Brexit, we sadly have suspended orders to E.U. countries. This will hopefully only be a temporary measure whilst we figure out how to handle the situation for both you, the customers, and us as a small family-run business. Apologies for any inconvenience caused.